Take Healthy Breakfast That Are Rich in Protein
During hectic days, a person needs a healthy breakfast for being active the whole day. A human body needs an appropriate amount of nutrients. A protein-packed breakfast can satisfy your appetite and also makes you feel fuller. According to Recommended Dietary Allowance, a healthy human body needs 0.8g of protein per kg body weight. After having a sleep of 8-9 hours at night, your body uses all the energy produced in a day. Once you wake up your body needs to be fueled up to keep your energy levels up.
Try these healthy breakfast ideas that are rich in protein:
Whole boiled eggs are one of the best sources of protein. The protein and fat in eggs help to maintain your energy levels, keep you full and satisfied for longer and increasing the need for a snack in the middle of the morning. As a bonus, eggs contain an essential nutrient named Choline which stimulates brain development and functioning.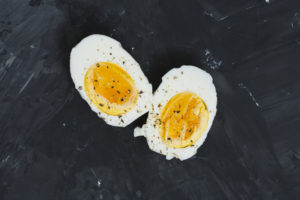 Lentils are a great source of plant-based proteins. If you're a vegetarian and you're searching for protein options, then try to make this quick and sumptuous meal. Packed with the goodness of Kidney Beans, Mung beans and Black Gram, not only can you have this eclectic breakfast recipe, but you can also pack it for the day later. Munch in it whenever you have cravings.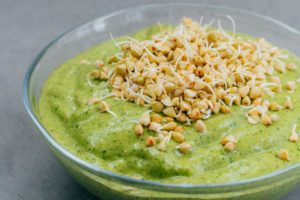 Fresh fruits, milk, honey and oats are needed to make this smoothie. This recipe shoots up your energy level instantly. Kiwi and melons are packed with plenty of health benefits and are full of nutrients. You can mix and blend all the ingredients and can use honey for sweetness according to your taste.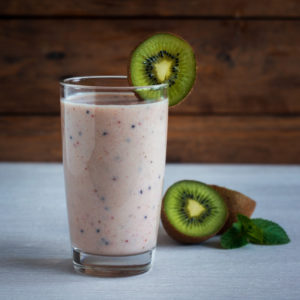 Cereals are usually loaded with proteins. There are some good options like Kashi Golean Original Cereal having 12g of protein, Kellogg's Special K protein having 15-18g of protein and fiber per serving. They can be mixed with milk and consumed for breakfast. For more boost, you can add nuts, seasonal fruits or dry-roasted healthy seeds.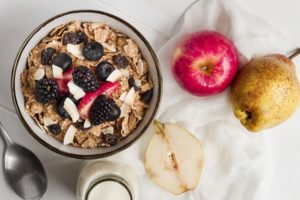 Quinoa is packed with all the essential amino acids, making it a complete protein source. These healthy pancakes are the perfect starting point for any morning. You can top it with seasonal fruits and nuts. Make sure you add honey for the sweetness instead of sugar.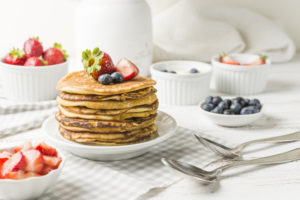 This breakfast option is very simple to prepare, consume and will also satisfy you until lunchtime. Chickpeas can be a great source of protein when you add avocados and some green leafy veggies to it. All you need to boil the chickpeas and add some salt, turmeric and pepper into it. Mince with garlic and onion. Serve with avocados and green vegetables.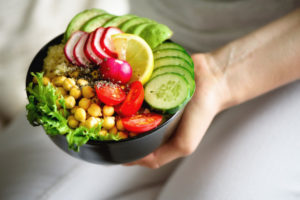 Spinach feta breakfast wraps:
Spinach feta wraps are one of the protein-rich foods. You can fill your wrap with eggs, feta, spinach or other fresh seasonal veggies. All you need is wheat tortillas and make the fillings using tomatoes, scrambled eggs, spinach, feta, salt and pepper. Wrap the fillings in the middle of the tortilla and enjoy the healthy munch.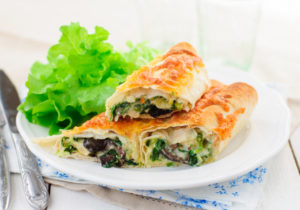 2 crepes of chickpea flour have approx 25g of proteins which is appropriate to fulfill the need for protein uptake. You can add chopped onion, tomatoes, coriander, chilies, mint leaves and other green vegetables. Mix all the ingredients and add the batter on the pan after applying oil. Let it cook until it turns golden brown.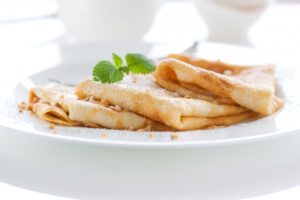 Oats are one of the healthiest grains on earth and a great source of vitamins, minerals and fibers. They also contain more protein and fat amounts than other grains. You can boil the oats with water and milk. You can also top the oats with your favorite seasonal fruits, nuts and a good amount of honey for sweetness.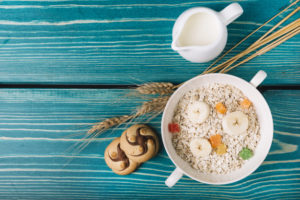 Here you have a list of a good amount of healthy protein-rich breakfast options that can help you in losing weight along with enhancing your skin, hair, nails and overall health. So, get these ingredients and make your breakfast tasty.